Managing Medicines
Managing Medicines.                               1 day           Also available as a short 3 hour course-  please contact us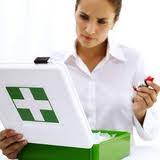 This one day (6 hour) course covers relevant information needed to manage and administer medicines. The course covers the standards for medicines management, responsibilities for those administering medicines, record keeping and provides learners with an understanding of medication and prescriptions.
This course does not replace administration requirements as specified in an individual health care plan, written by a doctor.
What will you learn on this course?
Syllabus
Managing Medicines.
Legal responsibilities.
Medicines policies.
Prescribed medicines.
Controlled drugs.
Non prescription medicines.
Individual Health care plans.
Administering medicines.
Self management.
Refusal of medicines.
Record keeping.
Insurance.
Safe storage and disposal of medicines.
Emergency medicines and procedures.
Incident management.
Who should attend this course?
Persons wishing to administer presciption medicines.
Personel needing to have the knowledge and skills to manage medicines.
 What are the purposes of this course?
To understand the processes involved with medication management.
To reduce the likelihood of error associated with mismanagement of medicines.
To understand the management of the most common medical conditions.
What type of assessment does this course use?
Our assessment methods for this course may include:
Practical Demonstration.
Group Discussion.
Case study.
Observation of learner's skills.
Question and Answer sessions.
How long does this course take?
This course is delivered as a One-Day programme (6 hour) and the qualification lasts for a period of 3 years. Note: It is recommended that learners refresh their knowledge annually.
Where you can take the course?
In-house training:  This course is delivered anywhere in the UK at your premises.
Contact us for your In-house training
Private Course:  We can organise and deliver your course at the location that suits you.
Contact us for your Private Course
Open Courses: We offer scheduled Managing Medicines courses in different locations.  Book your place in our Open courses