Safeguarding Adults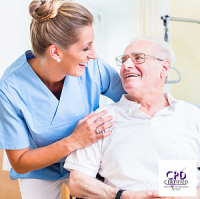 £25 + VAT  –  Package Discounts available (+5 courses)
The Safeguarding Adults Online Training Course is aimed at anyone who has a duty of care for, or comes into contact with, adults in need of care and support, either as a paid professional or a volunteer. This includes, but isn't limited to, those that work in domiciliary care, the NHS, community centres, prisons or with a family member at home, and sets out the roles and responsibilities everyone must undertake to protect an adult's right to live in safety, free from abuse and neglect. You and the organisation you work for must take appropriate and proportional measures necessary for the protection of adults in your care, while still ensuring they are supported and empowered to have control over how they want to live their lives.
During this course you will hear many facts, figures and details surrounding the risk to adults in need of care and support, the types of abuse suffered and key safeguarding legislation put in place to minimise the abuse of adults with care and support needs. By the end of this course, you will have a better understanding of safeguarding principles and be able to apply them to your role.
Recognise and respond to the ten types of abuse suffered by vulnerable adults; identify and report concerns of abuse or neglect; describe your role, responsibilities and boundaries; ensure people are supported and encouraged to make their own decisions and give informed consent, and finally manage the environment to minimise the risk of abuse.
On successful completion of the course you will obtain a certificate. Your certificate will be available to download as soon as you have passed your course.
The Safeguarding Adults course is accredited by the CPD certification service.
What you will learn on this course?
Syllabus
Introduction to Safeguarding Adults
Types of Abuse and the rights of vulnerable adults
How to Recognise the Signs of Abuse
What to do if you suspect an adult is being abused
Safeguarding Legislation
 Who should attend this course?
Anyone working with, or in charge of the care of vulnerable adults.
Anyone supporting vulnerable adults in the community or at home
What are the purposes of this course?
Develop knowledge and understanding to safeguard adults against abuse.
Recognise the signs that a vulnerable adult may be being abused and take the appropriate actions.
How long is this course?    
This course has an approximate duration of 1.5 -2.5 hours depending on your review system and thinking time to answer the questions. The amount of video content shown is approx. 75 mins.
What type of assessment does this course use?
The course's assessment method is multiple choice questions. You are able to review all your answers at the end of each module before final submission and you will have 3 chances per module. All modules must have a 70% score to achieve a pass.
What are the recommended System Requirements?
Operating System: Windows 7+ or Mac OSX (10.8+)
Browser: A modern and up to date web browser
Video: Up to date video drivers
Memory: 1Gb+ RAM
Additional Software: Flash Player (latest version)
Download Speed: Broadband (3Mb+)
If you want to purchase a course for yourself or someone else click on buy now:
Important: To register for your account, you need your own individual email address whose account name should match your name in the registration. We will use this address to send a confirmation email, or a new password and to confirm your name to issue your certificate.

If you require a VAT invoice, want to arrange an alternative payment method or to take advantage of our multiple discounts (purchase more than 10 courses at once) and/or would like to have access to a Business Account.

If you already have an account, please go to our training portal