Level 3 First Aid at Work
Level 3 Award in First Aid at Work (RQF)                                                         3 Day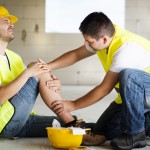 This 3 day First Aid at Work (FAW) course is a mandatory requirement for companies with a high hazard environment, larger sized organizations or companies whose risk assessment advised full qualification training for their first aiders. The course covers the HSE syllabus and complies with Health & Safety (First Aid) Regulations and the approved code of practice L74 guidelines for the qualification of workplace first aiders.
Delegates will obtain a nationally recognised awarded qualification to the Ofqual standard which compliments your vocational skills.
What you will learn on this course?
Syllabus
Introduction to first aid.
First Aid in the Workplace.
Role and responsibilities of a first aider.
Incident Management -Primary and Secondary Survey.
Seizures and Epilepsy.
Choking.
Unconsciousness – Unresponsive casualty.
Cardio Pulmonary Resuscitation.
Shock.
Bleeding and Wounds.
Burns and scalds.
Anaphylaxis.
Fractures.
Muscle and soft tissue injuries.
Head and Spinal injuries.
Chest injuries.
Eye injuries.
Poisoning.
Heart Attack.
Stroke.
Epilepsy.
Asthma.
Diabetes.
Who should attend this course?
Persons who are or wish to be dedicated first aiders in workplaces. This intensive 3 day course is for able bodied and focused individuals.
Those wishing to thoroughly develop the knowledge, understanding and skills required to be an effective first-aider in the workplace.
What are the purposes of this course?
To develop knowledge, understanding and skills in the following areas: role and responsibilities of the First Aider; assessing an incident, recognising signs and symptoms of injury and illness, assisting a casualty who is suffering from injury or illness. Recording and reporting.
The learner will be able to provide First Aid in the workplace in a prompt, safe and effective manner to meet the requirements of the Health and Safety Executive, (HSE) First Aid regulations.
To develop the first aider role in the workplace for personal growth and engagement in learning.
How long does this course take?   
This course is delivered as a 3 day programme (18 hours) of training and assessment to allow learners to be first aiders in the workplace. The qualification lasts for a period of 3 years.  Note: It is recommended that learners refresh their knowledge annually.
What type of assessment does this course use?
Our assessment methods for this course may include:
Practical Demonstration.
Group Discussion.
Case study.
Observation of learner's skills.
Question and Answer sessions inc' written assessment.
Where you can take the course?
In-house training:  This course is delivered anywhere in the UK at your premises.
Contact us for your In-house training.
Private Course:  We can organise and deliver your course at the location that suits you.
Contact us for your Private Course.
Open Course: We offer scheduled First Aid at Work courses in different locations: Wimbledon, Waterloo, Croydon and Milton Keynes. Book your Open course.