CPR & Automated External Defibrillation
Level 2 Award in Cardiopulmonary Resuscitation and Automated External
Defibrillation (QCF)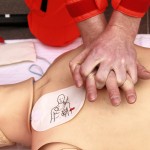 This half day (3 hour) CPR & AED course gives you the knowledge and confidence to deal with the event of a life-threatening cardiac arrhythmia. The quicker you act performing CPR and using your AED in this serious life threatening emergency, the more you can improve the casualty's chances of survival. (The chances of survival can be increase by 75% with the effective use of an AED)
This course covers basic life support, including the procedure of administering cardiopulmonary resuscitation whilst using the automated external defibrillator.
As part of the Health & Safety supply for your employees, it is highly recommended to have an AED in the workplace and provide appropriate training in its use.
You or your delegates will obtain a nationally recognised qualification to the Ofqual standard, which compliments your vocational skills.
What will you learn on this course?
Syllabus
Basic life support requirements.
Basic life support techniques and AED use in line with current national guidelines.
Compression only resuscitation.
The use of an AED on an adult/child.
Post resuscitation procedures.
Recovery position.
Basic user maintenance and troubleshoot problems with an AED.
Safe use of an Automated External Defibrillator.
Who should attend this course?
Persons who are designated as first aiders in the workplace who have access to a defibrillator.
People wishing to thoroughly develop the knowledge, understanding and skills required to be an effective First-Aider/ Life Saver in the workplace.
Persons who support the first aider role in the workplace.
What are the purposes of this course?
To develop knowledge and skills in Cardiopulmonary Resuscitation and Automated External Defibrillation.
To understand the role that Cardiopulmonary Resuscitation and Automated External Defibrillation play in the chain of survival.
To advance the first aider role in the workplace, or for personal growth and engagement in learning.
How long is this course?     
This course is delivered as a half day (3 hour) programme of training and assessment and the qualification lasts for a period of 3 years.  Note: It is recommended that learners refresh their knowledge annually.
What type of assessment does the course use?
Our assessment methods for this course include:
Practical Demonstration.
Simulated Environment.
Observation of learner's skills.
Question and Answer sessions.
When and Where you can take this course?
In-house training:  This course is delivered anywhere in the UK at your premises.
Contact us for your In-house training
Private Course:  We can organise and deliver your course at the location that suits you.
Contact us for your Private course