First Aid For Sports
Level 2 Award in First Aid for Sports                                                                   1 Day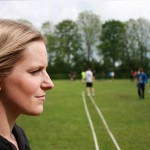 This one day (6 hour) First Aid for Sport course gives you the knowledge and skills to manage first aid in a sport environment. The confidence to apply accurate treatment to an athlete under your care in order to alleviate pain, promote healing or stabilise a casualty to prevent further injury. You will also know when to refer to other medical services.
Delegates can achieve a nationally recognised qualification to the Ofqual standard which compliments your vocational skills.
What will you learn on this course?
Syllabus
Roles and responsibilities of first aid provision for sports.
Accident/Incident reporting procedures.
Common injuries incurred through sporting activity.
Major and minor injury management.
Major and minor illnesses.
Assess minor and serious injuries.
Soft tissue injuries, cramp,sprains and strains.
Bleeding and Wounds.
Fractures
Head Injuries.
Impact and fall injuries.
Chest Injuries.
Breathing Difficulties.
Unconsciousness.
CPR adult and child.
Facial and eye injuries.
Neck and back injuries.
Who should attend this course?
Persons who are designated as first aiders in a sport environment.
People wishing to develop the skills, knowledge and understanding to enable them to provide appropriate care and management of sport injuries.
 People who support sport such as Coaches, Fitness and Gym instructors, Personal Trainers, Team Managers, P.E. teachers, Martial Arts, Athletes, etc.
What are the purposes of this course?
To develop learners' knowledge and practical skills to enable them to recognise and respond with appropriate actions, ensuring a safer and more controlled sporting environment.
To support the first aid role in the workplace by adding precise knowledge and understanding of sport related injuries.
How long does this course take?     
This course is delivered as a 1 day programme (6 hours) and the qualification lasts for a period of 3 years.  Note: It is recommended that learners refresh their knowledge annually.
What type of assessment does the course use?
Our assessment methods for this course may include:
Practical Demonstration.
Group Discussion.
Case study.
Observation of learner's skills.
Question and answer sessions.
All learning outcomes must be met to achieve a Pass.
Where you can take the course?
In-house training:  This course is delivered anywhere in the UK at your premises.
Contact us for your In-house training.
Private Course:  We can organise and deliver your course at the location that suits you.
Contact us for your Private Course