Level 3 Emergency First Aid at Work
Level 3 Award in Emergency First Aid at Work                                       1 day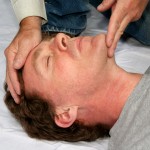 This one day (6 hour) EFAW course is a mandatory requirement for first aiders in the workplace, including small to large companies in medium/low risk environments. The course covers the syllabus as guided by the Health & Safety Executive (HSE) with the option to concentrate on areas of concern that may affect your personal working environment.
You can choose a qualification to the Ofqual standards, or our Grays Medic approved CPD certification (The CPD Group -TCG accredited learning activity)
What you will learn on this course?
Syllabus
Introduction to first aid.
First Aid in the Workplace.
Role and responsibilities of a first.
Incident Management -Primary and Secondary Survey.
Choking.
Asthma.
Anaphylaxis.
Seizures.
Unconsciousness – Unresponsive casualty.
Cardio Pulmonary Resuscitation.
Medical conditions.
Shock.
Bleeding and Wounds.
Fractures.
Burns and scalds.
 Who should attend this course?
Persons who are designated as first aiders (Appointed Persons) in low to medium risk environments.
People who provide support to fully qualified First Aiders.
People wishing to develop the skills, knowledge and understanding to enable them to provide appropriate care, and manage life threatening conditions, illness and injuries in the workplace.
This qualification is particularly suitable for people seeking full time employment, or those looking to gain vocational skills.
What are the purposes of this course?
 Develop skills, knowledge and understanding to provide appropriate care, and to manage life threatening conditions, illness and injuries. The learner will be able to provide Emergency First Aid in an occupational setting, promptly, safely and in an effective manner.
Support the main first aider by assisting and stabilising casualties
Ho

w long is this course

 ?    
This course is delivered as a one-day programme (6 hours) and the qualification lasts for a period of 3 years.  Note: It is recommended that learners refresh their knowledge annually.
What type of assessment does this course use?
The course provides theory and practical scenarios. Our assessment methods for this course may include:
Practical Demonstration.
Group Discussion.
Case study.
Observation of learner's skills.
Question and Answer sessions.
All learning outcomes must be met to achieve a Pass – there is a test on this course.
Where you can take this course?
In-house training:  This course is delivered anywhere in the UK at your premises.
Contact us for your In-house training
Private Course:  We can organise and deliver your course at the location that suits to you.
Contact us for your Private course
Open Courses: We offer scheduled Emergency First Aid at Work courses in different locations.  Book your place in our Open courses