Principles of COSHH Risk Assessment
Level 2 Award in Principles of COSHH Risk Assessment                                                3 hour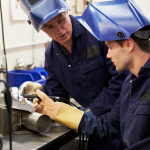 This half day (3 hour) Principles of Control of Substances Hazardous to Health (COSHH) Risk Assessment course is designed to provide learners with knowledge and understanding of COSHH risk assessment with an introduction to chemical substances and their effect and hazards.
Employers have a duty to comply with legislation governing information, notification, supply, packaging, labeling and control of dangerous substances and preparations used within the workplace.
What will you learn on this course?
COSHH regulations 2002.
Effects on the human body.
Manufacturers safety data sheets.
How risk assessments can contribute to the safe use of hazardous substances.
Precautions and procedures necessary to ensure the risks associated with hazardous substances are properly controlled.
Hierarchy of control measures.
Safe use, handling, transporting, storage and disposal.
Emergency procedures.
Who should attend this course?
People responsible for the Control of Substances Hazardous to Health (COSHH) at work.
Employees who use hazardous substances in manufacturing, cleaning, healthcare, transport, utilities and offices.
People wishing to gain the knowledge to manage hazardous substances.
What are the purposes of this course?
To develop knowledge and understanding of COSHH risk assessment and the skills that are required to carry out an appropriate risk assessment.
Learners wishing to progress to a qualification in Health and Safety, or preparing learners for further development for COSHH.
How long does this course last?     
This course is delivered as a half day programme (3 hours).
What type of assessment does this course use?
The course provides theory and practical scenarios. Our assessment methods for this course may include:
Observation of learner's skills.
Question and answer sessions.
Assessment          30 multiple choice questionnaire.
Where you can take this course?
In-house training

:  This course is delivered anywhere in the UK at your premises.
Contact us for your

In-house training

Private Course

:  We can organise and deliver your course at the location that suits you.
Contact us for your

Private Course