Health and Safety in a Construction Environment
Level 1 Award in Health and Safety in a Construction Environment       
   5 Day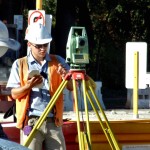 This 5 day (40 hour) Health and Safety in a Construction Environment course is designed to develop knowledge and understanding of issues affecting safe working practices on UK construction sites. This certification is required for those intent on working as labourers.
The qualification covers risk assessment, manual handling, working at height, health and safety at work and the safe operation of site equipment.
Successful completion of this qualification will enable learners to apply for the Construction Skills Certificate Scheme (CSCS) Green Card, which is a mandatory training requirement since July 2014 and conforms to General Workplace Health, Safety and Welfare. This allows access to construction sites in the UK as a labourer or as an unskilled worker. This may be as a new worker or those renewing their Construction Site Operative cards.
Learners will need to complete the CSCS Health & Safety touch screen test. This can be done by contacting CSKILLS on 0344 994 4488 or you can visit the website at: http://www.cscs.uk.com/cscs-cards/health-and-safety-test
What will you learn on this course
Principles of risk assessment for maintaining and improving health and safety at work.

Risk Assessments.
Legal requirements.
Hazards.
Accident reporting procedures.

 Manual handling in the workplace.

Manual Handling.
Responsibilities and Legal requirements.
Moving materials and safe lifting.
Reporting procedures.

 Working Safety at height in the workplace.

Responsibilities and current legislation.
Listing hazards/risks.
Suitable Equipment.

 Risk to health from hazardous substances.

Risks within the construction environment.
Importance of correct storage of combustibles and chemicals.
Personal Protective Equipment.
Asbestos.
Fire Protection and control.

 Working around Plant and Equipment safely.

The use of plant and equipment.
Moving Plant.
Noise and vibration.
Electrical safety.
Control hazards/ risks.
Hazards warning signs and symbols.
 Who should attend this course?
Anyone who intend to work in the construction industry as a labourer.
People wishing to develop knowledge to prepare them for employment. Learners who currently work, or want to work, on construction sites.
What are the purposes of this course?
Develop learners' knowledge and awareness on a construction site with the goal of obtaining the CSCS Green Card and to renew the CSO card.
Meeting relevant programmes of learning, supporting a role in the workplace and giving learners personal growth and engagement in learning.
How long does this course last?    
This course is delivered as a 5 day programme (40 hours).
What type of assessment does this course use?
Our assessment methods for this course may include:
Practical Demonstration
 Group discussion
 Case study
 Written assignment
 Observation of learner's skills
 Question and Answer sessions
Assessment               40 multiple choice questionnaire.
Learners will also need to pass the CITB Health, Safety and Environment Test (HS&E)
When and Where you can take the course?
In-house training:  This course is delivered anywhere in the UK at your premises.
Contact us for your In-house training
Private Course:  We can organise and deliver your course at the location that suits you.
Contact us for your Private Course
Our Venues…call now to book a place.