Food Safety Supervision for Manufacturing
Level 3 Award in Food Safety Supervision for Manufacturing                                            3 Day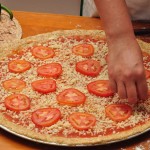 This three day (18 hours) Food Safety Supervision for Retail course is designed to develop knowledge and understanding relating to the manager or supervisor's role at all stages of food production. Learners will understand how food business operators can ensure compliance with food safety legislation, the application and monitoring of good hygiene practices, how to implement food safety management procedures and the role of supervision in food safety management procedures. The Food Standards Agency regards these topics as important in maintaining good practice in the production of safe food.
Nationally recognised awarded qualification to the Ofqual standard.
 What will you learn on this course?
Food safety management procedures.
Responsibilities of employers and employees.
Food Safety Legislation, compliance and enforcement.
Requirements of food safety audits.
Monitoring good hygiene practices.
Control contamination and cross-contamination.
Implementing procedures and maintaining standards.
Equipment design and cleaning procedures.
Methods and procedures for controlling food safety.
Who should attend this course?
People working in food manufacturing, distribution and storage industries as supervisors, team leaders and line managers
People who are, or intend to be, supervisors in any part of the food and drink manufacturing sector.
 What are the purposes of this course?
To develop knowledge and understanding relating to the supervisor's role at all stages of food production.
How long does this course last?    
This course is delivered as a 3 Day programme (18 hours).
 What type of assessment does the course use?
The course provides theory and practical scenarios. Our assessment methods for this course may include:
Group Discussion. ·
Case study. ·
Question and answer sessions.
Assessment    45 multiple choice questionnaire.
All learning outcomes must be met to achieve a Pass.
Where you can take the course?
In-house training:  This course is delivered anywhere in the UK at your premises.
Contact us for your In-house training
Private Course:  We can organise and deliver your course at the location that suits you.
Contact us for your Private Course